What is the Jam Cards?
The Music Thinking Jam Cards is an inspirational card set for changemakers, pattern recognisers, innovators, transformers and natural collaborators. Because we all need extra inspiration, use the jam cards to trigger your ideation session, co-create your purpose, define your design challenge or lay the foundations of your company's culture or brand story. The Music Thinking Jam Cards contain inspiring triggers from the big world of music for business, society and individuals.
The Card Set is nicely designed in the size of a 45 rpm single record (18 x 18 cm). It contains 38 inspiration and 6 cue cards. All the inspiration cards have multiple triggers:
a keyword that sums up the essence of the card
a key visual with snapshots from the author, paintings from the Rijksmuseum among others
a trigger question to spark and diverge your thinking
an inspirational quote from musicians (and non-musicians) that make you think
a sonic trigger (link to a musical piece on Spotify. Here is an introduction on how to play Spotify codes of the Jam Cards).
connections with the six cues of the Music Thinking Framework (explained in the booklet).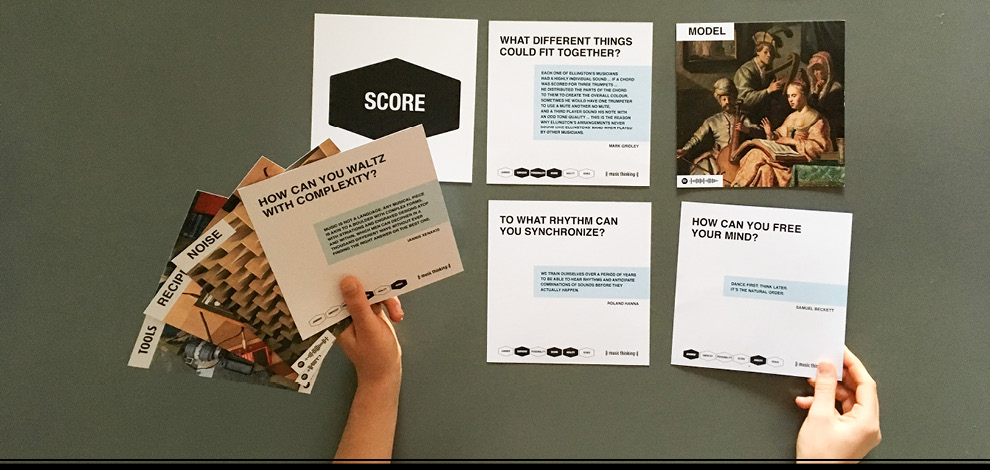 There is no right way to have a jam card session, you can use them individually or with a group of people.

Preview of the Jam Cards
How to play with the Jam Cards
Because the Jam Cards are quite open-ended they don't really need specific instructions on how to use them. This means that the Jam Cards can be used to shape your own exercises and workshops, which is challenging and fun. Because some people might find this confusing we created three ways of using the cards to help you to get an idea of how you can use them in workshops. There is a blog post with a description of three variations, what your Jam Card session could look like: Serendipity Lab, Mix & Match, Strategy Jam.
How to buy the Jam Cards
You can order the jam cards via your local bookstore (worldwide) and have a nice chat with the people there and try the cards right away. You can buy them directly from the publishers at BIS Publishers.
Yes, you can also find them at Amazon.com, Amazon.de, and Bol.com
Boxed set 

44 cards
18.5 x 18.5 cm
ISBN 978 90 6369 514 9